Children's Service - Support Worker, Short Breaks
Are you looking for a job that really makes a difference to the lives of young children?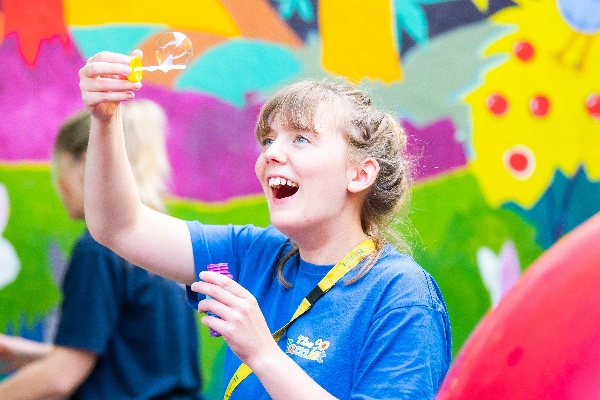 We will be accepting applications after the summer holidays.
Are you looking for a job that really makes a difference to the lives of young children?
We are looking for energetic and enthusiastic Support Workers to work during our weekend and school holiday play schemes, for children and young people with disabilities.
The play schemes cater for children aged 3 – 18 years old, offering plenty of opportunities for the children to explore, play and socialise through a wide range of experiences.
You will be contracted to work a certain number of sessions per year as detailed below, with the opportunity to pick up additional sessions throughout the year.
We will provide all the training you need and support you to reach your full potential as a Support Worker, so experience is not always necessary! But you will need to be physically fit and resilient as well as having enthusiasm, energy and a strong belief in every child's right to take part and have opportunities to play.
You should be willing to attend training at weekends and some evenings as well as completing online courses to enable you to offer the best care possible to the children and young people you support.
In return, you'll have the opportunity to use your imagination and sense of fun every day to make each play scheme special to the children that attend. One day you could be painting posters in the hall, and the next you could be chasing the managers around the garden with water guns! The fun and opportunities are endless.
We are looking for team players to become part of our Short Breaks family, that are responsible and take commitment seriously, making sure not to let the children or our team down.
Above all you must be willing to play, let your hair down and have fun!
Please read the Job Description below for full details of the role.
Safeguarding Statement
The Hamlet is committed to safeguarding and promoting the welfare of children, young people and at-risk adults and expects all staff and volunteers to share this commitment. You will find our full Safeguarding Policy as part of our application pack to read before completing your application. We are committed to ensuring that all aspects of recruitment reflect this. Short listed candidates will be invited to a two-part Warner and role related interview.
COVID 19 Measures
Due to the current COVID 19 situation, those selected for interview may be invited to attend via Zoom or Microsoft Teams if face to face interviews are not possible.
Role Details
Post: Short Breaks Support Worker 
Based at: The Hamlet Children's Centre, Johnson Place, Norwich NR2 1SJ.
Posts Available: The normal hours of work are 9.00am – 4.00pm. Please specify the post you're interested in within the application form.
Post 1: 2 Saturdays per month + 2 Sessions during the school holidays.
You will be expected to work 2 Saturdays a month. In addition, you will be required to work two days per week during the following periods:
             

April - Easter holiday for two weeks

             

May & June - half term for one week

             

July & August - Summer holiday for five weeks

             

October - half term for one week

             

February - half term for one week.
During these periods you will be required to work Monday to Saturday and will be advised which days you are required to work as far in advance as possible.
Post 2: 24 Saturdays across the year.
Salary: £10.42 per hour. Rising to £10.53 per hour after the completion of a 6 month probationary period.
Mandatory training is paid at the National Minimum Wage depending on age.
Closing date for applications:  Ongoing Recruitment
Please note that we reserve the right to close the vacancy before the stated closing date, therefore early applications are encouraged.
Interviews: Arranged with the candidate.
Purpose and Scope of the Role
To support our playschemes for children with disabilities at our Children's Centre at weekends and during the school holidays. Supporting children to play as well as caring for their personal needs such as feeding, toileting and dressing. Activities for the children take place both at the centre and in the local area.
Supporting our Safeguarding Commitment:
You will be required to hold a satisfactory Enhanced DBS check and have supplied at least 2 satisfactory references before starting work. Any conviction or adverse report relating to care, children, at risk adults, or dishonesty would make a candidate unsuitable for this role.
To Apply:
We'd love it if you could submit your application online by downloading our application pack, completing the forms, and sending them to admin@thehamletcharity.org.uk
If you require an alternative method of applying, or documents in a different format, please give our HR Team a call on 01603 215193 or send an email to admin@thehamletcharity.org.uk 
Please note that we do not accept CV's
Application Pack
Functional Requirements Risk Assessment